Mr. Sensitivity
Written by Byron Nilsson
Directed by David Baecker
SoHo Playhouse
15 Vandam Street
FringeNYC.org
Review by Michelle Zigas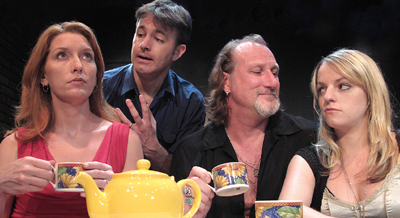 The Gift of Porn Caroline Lawton, David Sedgwick, Jefferson Slinkard and Kate Hettesheimer in Byron Nilsson's Mr. Sensitivity (photo: John Quilty).
Byron Nilsson's Mr. Sensitivity, a modern farce at the 2009 FringeNYC, showcases the collision of fantasy with reality when the lives of an ordinary urban couple become entangled with that of famed porn star Barry Woodman. After meeting Woodman at the local gym, the male half of the couple hires the actor to perform as a birthday present for his wife — a last-ditch attempt to revive his 10-year marriage.
Employing a small set that recreates the living room of a young, upscale professional couple, the play opens with a lewd line from Woodman (played by Jefferson Slinkard). Woodman's bawdy persona juxtaposes nicely with Grady (David Sedgwick), a tech magazine editor whose inward-facing, repressed personality becomes all the more evident during their uncomfortable interaction.
Though initially repelled by her husband's misguided attempts to save their marriage, Tiffany, a high-maintenance, type-A professional (embodied nicely by a high-energy Caroline Lawton), eventually finds herself warming to the prospect of a rendezvous with the adult film actor. Meanwhile, Woodman's girlfriend, Kim (played with verve and wry charm by Kate Hettesheimer) seems the only character with a normal reaction to her fiancée's infidelity: Upon discovering Woodman's potential indiscretion, she becomes livid. Her ensuing monologues are edgy and profane, and capture the complex brutality of romance.
The show is often laugh-out-loud funny, and the performances and writing energetic. Filthy dialogue is woven into a fast-paced interplay of clever, dirty one-liners, mostly courtesy of Woodman, whose alternate career goals include jobs as a couples' therapist or a poet. Slinkard's Woodman appears as a cross between an iconic film star and "The Big Lebowski's" the Dude, a larger-than-life persona who riffs extensively and explicitly on various aspects of sexual acts.
Slinkard's and Sedgwick's repartee is among the play's highlights. Though Woodman's excessive raunchiness just skirts the border of overkill toward the middle of the play, a vibrant cast and some tight writing allows the show to achieve a well-told, human tale and a number of well-earned laughs.